As of December 2009 the Big Four is something you can search for and read about on Wikipedia. It's still a stub article, but it's there. I can't go in and fill it out because I am worried about conflicts of interest now that I campaign on the issue. Someone reading this post should feel more than welcome to though.
If Wikipedia status means anything, it at least means an idea or word has been said enough times to become a meme. And so, after all my work with A New Way Forward and the work of thousands of people, normal and fancy, over the past year, the Big Four is at least a meme. (For full disclosure, we're now asking people to break up with their banks at bankbreakup.org and canvass with BanksterUSA.)
What does the Big Four mean? It's the big 4 banks — Wells Fargo, Citigroup, Bank of America, and Chase — who together are a dangerous entity in society. Together, they pose danger to society, the economy, and our politics. They each have past the size of a company that makes a company more efficient and have become giants that hold the strings to our country. They have gone into the territory of overpricing, dominating political debate, and taking down the country without remorse when they fail.
I talked about this on Danny Schechter's radio show on the Progressive Radio Network today (archive will be posted on Media Channel as well).
How are the big 4 banks dangerous? When you're a corporation you put more money into investing in your future to beat out the competition. These big 4 banks did this in the 90′s, and back in the 80′s, and back in the 20′s, and have won. They beat out all competition and now anything they want, including the dangerous stuff, is deemed okay.
Most likely, your wages haven't gone up in the past 20 years, we have around 20% unemployment and underemployment, we have millions of foreclosures, we have $700 billion of household debt, young Americans spend 29% of their income on debt, we have lack of individual political power with the decline of unions and what they stand for and, our state and local budgets have just been bamboozled and taken away by the big banks.
We have a janitor facing eviction cleaning up after the CEO whose bank bought her house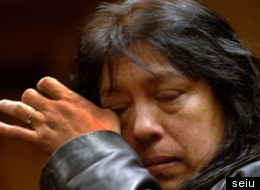 "At first, Minneapolis janitor Rosalina Gomez said she didn't realize she was cleaning up after the CEO of the bank that bought her foreclosed home in a September sheriff's sale. "At the beginning I didn't know he was the guy," said Gomez through an interpreter in an interview with HuffPost."
We have made-up rules and gouging prices created to make you trip up and make the big four more money: You can get on a blacklist for something you might do without thinking. "Disputing a credit card charge by asking for a "chargeback" can lead to being put on a blacklist that merchants can check for customers who might try to defraud them. Getting off the list costs $99, although the fee is waived if the customer didn't know they were committing "friendly fraud," said Brien Heideman, founder of BadCustomer.com, which keeps such a customer list for retailers that don't want to get hit with costly credit chargebacks."
We have Greece's debt turned into a money-making insurance policy by a Big 4 and a Big 6. Bankster's blog explains Greece, and here is a summary: "It's "like selling a car with bad brakes and then taking out an insurance policy on the driver." Greece is "too-big-to-fail", is in heavy debt and can default. Goldman Sachs helped get them into debt by helping to hide the debt so they can loan even more money from others. Goldman, JP Morgan and others also sold "insurance policies" on Greece's debt – their buyers will make a bunch of money if Greece goes totally bust."
So, we're at the beginning of realizing the answer to "Why are the Big 4 Banks dangerous to society and what's a better way to do banking in this country?" Reuters knows why. They have a great graphic on the increase in size.
Simon Johnson beat me to it and layed out three reasons why "Big Banks are Bad"
"First, the economic advantages of bigness were not as great as claimed. In many cases big firms did well because they used unfair tactics to crush their competition. John D. Rockefeller became the poster child for these problems.

DESCRIPTION The original J.P. — that is, John Pierpont — Morgan.

Second, even well-run businesses became immensely powerful politically as they grew.

J.P. Morgan was without doubt the greatest financier of his day. But when he put together Northern Securities — a vast railroad monopoly — he became a menace to public welfare, and more generally his grip on corporations throughout the land was, by 1910, widely considered excessive.

Third, there was a blatant attempt to use the political power of big banks to shape the financial playing field in ways that would help them (and their close allies) and hurt the remainder of the private sector — including farmers, small businesses and everyone else."
Any results-based, research-heavy, social-issues aware economist will tell you that they agree a level playing field is what all good things flow from. That's all we're asking for. I want a Democrat in Congress to show me how they aren't keeping at bay the level playing field.
We're at the beginning of the fight and wikipedia is showing that we can win over our collective hearts and minds.
Published on FireDogLake's The Seminal here.
Pearlstein of WPost makes a good summary of the stalemate in financial reform in Congress (not in the public mind you):
"There are many parties to thank for this stalemate: Liberal Democrats who insist that the only solution is to micromanage the financial services industry from Washington. Conservative Republicans who can't accept that their deregulation went too far and can't bear the thought of handing a legislative victory to President Obama. A financial services industry that says it supports regulatory reform in general but can't agree to any specific changes. And regulators, in denial about their own failures, who remain determined to preserve their power and influence. "
Unfortunately, Pearlstein, a well-informed financial crisis writer shortchanges fundamental plans to real reform that were left out of the "new solution" by calling the solution attractive. The bill has no Volcker rule as recently pushed for by Obama and which would cap the size of banks at their current size and a stopping of some propietary trading; or that Glass-Steagall separation that keeps your money away from out-of-hand growth for big banks and extreme risk for the American taxpayer, and pushes for an undemocratized single regulator and passes by our most important crusader, Sheila Bair. Our litmus test for financial reform is still "nationalize, reorganize, decentralize" in the face of a crisis and in the construction of a financial industry in the present.
The shape of the regulator doesn't matter, but its harmony, function, accountability and transparency.
Here's what the compromis[ed] bill has:
"The compromise hammered out between Dodd and Corker would establish a single regulator of federally chartered banks with a dual mission and an independent source of funding, based on my conversations with several key players. One division would promulgate and enforce rules to protect consumers; the other would fulfill the traditional role of supervising banks for safety and soundness. Supervisors from both divisions would participate in the periodic reviews of bank operations, and any conflicts between the two would be resolved by the head of the agency."
Why the change? Pearlstein says, "Some credit also goes to Obama, whose decision to embrace a more populist critique of Wall Street in recent weeks has rattled financial markets and persuaded big banks to push for a compromise rather than leave a cloud of regulatory uncertainty hanging over their heads. Apparently nothing focuses the mind of a Wall Street banker so much as the prospect of being forced to shut down his proprietary trading desk."
The bill includes our "nationalize/receivership" rallying cry that would stop the bailouts to too big to fail banks and put them through an insolvency process in order to contain crises and keep capitalism on an even keel: "Dodd, Corker and Democratic Sen. Mark Warner of Virginia are putting the finishing touches on a plan reflecting these judgments. As they envision it, any time a big financial institution is threatened with insolvency, the government would be authorized to take it over and close it down in a bankruptcy-like process. The government could provide temporary loans to ensure an orderly liquidation process and prevent financial panic, but only to the extent that the loan would be repaid from proceeds of the sale of the bank's assets. Although insured depositors would be protected, creditors, counterparties and investors would all suffer losses."
Insider scoop from Politico: "Treasury Secretary Timothy Geithner meets with Senate Banking Committee Chairman Chris Dodd (D-Conn.) and Sen. Bob Corker (R-Tenn.) this afternoon to get a briefing on the progress they've made hammering out a compromise on financial regulatory reform and to strategize about how to move things forward.
MEANWHILE, SIGNS OF PROGRESS – POLITICO's Victoria McGrane reports: The widespread consensus forming Tuesday was that the Dodd-Corker bill won't be ready until next week – multiple industry sources heard Dodd tell his ranking Republican, Richard Shelby, as much. But the signs are auspicious for a bipartisan bill – and one that might actually be able to pass the Senate. Corker told POLITICO Tuesday that Republican support for the Dodd-Corker product is building behind the scenes.""
The banks are bigger than they've ever been, the only good financial reform bill is still nationalize, reorganize, decentralize, tuned for the different stages of a financial crisis and a steady economy.
As Simon Johnson and Peter Boone say, "As a result of the crisis and various government rescue efforts, the largest six banks in our economy now have total assets in excess of 63 percent of GDP (based on the latest available data)."
The debate over banks and banking came front and center this week. In his toughest language yet, President Barack Obama vowed to veto financial reform legislation that is not tough enough on Wall Street. "The lobbyists are already trying to kill it," Obama told Congress in his State of the Union address. "Well, we cannot let them win this fight. And if the bill that ends up on my desk does not meet the test of real reform, I will send it back."
The President's rhetoric offers an important measure of progress. Now we can be assured that the political elite are paying attention to the poll numbers showing an unprecedented anger at the big banks and the Wall Street bailouts. Democrats are starting to figure out if they don't take up this populist message and run with it in November, the Republicans will.
But the rest of the President's speech and the other dramatic developments in the banking world this week indicate that Democratic actions are falling far short of their rhetoric, a pattern that voters are sure to notice.
First, the speech. Many had anticipated a big announcement on jobs. With jobless rates in the double digits and a projected 5-10 year haul to get employment back to normal levels, workers were hoping for something big and bold. Instead, Obama proposed $30 billion in TARP funds to get credit flowing to small businesses. $30 billion to put 16 million Americans back to work? $30 billion when the Wall Street bonus pool for a few thousand bankers was $140 billion this month? Democrats will live to regret this missed opportunity.
Also on Wednesday, U.S. Treasury Secretary Tim Geithner was called on the carpet once again by irate members of the House for his mishandling of the AIG bailout. To their credit, several Democrats asked the toughest questions. But Geithner bobbed and weaved and no knock-out punches were landed. This is a problem for the Democrats. The whole incident paints an ugly picture of the federal response to the financial meltdown, best described by Representative Edolphus Towns (D-NY): "The taxpayers were propping up the hollow shell of AIG by stuffing it with money and the rest of Wall Street came by and looted the corpse."
On Thursday, Federal Reserve Chairman Ben Bernanke was reconfirmed by the Senate for another four year term. His nomination had been in trouble and a record number of senators voted no, but Obama stood by his man and pushed him through. The problem with Bernanke is best summarized by economist Simon Johnson: "Bernanke is an airline pilot who pulled off a miraculous landing, but didn't do his preflight checks and doesn't show any sign of being more careful in the future – thank him if you want, but why would you fly with him again (or the airline that keeps him on)?" While Bernanke may have saved Wall Street, he has shown little interest in using his power as Fed Chairman to aggressively aid Main Street. He is not the man for the job in these tough economic times and that will soon be apparent to the detriment of the Democrats who secured his confirmation.
Ultimately, however, the most important developments of the week were played out behind closed doors in the Senate. Senate Banking Chairman, Chris Dodd, made the decision some time ago to try to devise a bipartisan financial reform package. His package of reforms was then handed over to four bipartisan working groups. With thousands of bank lobbyists swarming the hill, it is no surprise that these groups are busily making the Dodd bill worse.
The derivatives language is being weakened and bankruptcy is emerging as the preferred method of unwinding financial institutions, which could leave taxpayers to foot the bill for this expensive procedure. To truly end the "too big to fail" problem and crack down on the reckless behavior of the biggest banks, we need strong, specific preventative measures such as leverage limits, capital and margin requirements, limits on counterparty exposures, a ban on proprietary trading and limits on bank size through a low cap on total liabilities. Even Obama's signature reform, an independent consumer agency is in danger of being whittled down to a corner desk in a failed federal agency.
The President understands that the Wall Street bailout was "about as popular as a root canal." But if Democrats continue to peddle this type of rhetoric while neglecting meaningful reform as they have done this week, the Republicans will run away with the anti-bailout message and with the election in November.
Crossposted from http://www.banksterusa.org/